Weld technical: Setting up a weld- and inspection plan (ITP)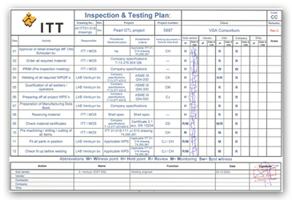 When welded constructions are getting more complex, or when the customer or inspectorate requires an approval and inspection plan, we are able to provide you with this service. The inspection plan will contain all the right steps and actions in chronological order in which way a checklist or guide line is being created which runs throughout the entire project.
In this inspection and test plan, also called ITP, certain 'hold' or 'witness' moments can be integrated in order to inform a customer or supervisor about the amount of sales. Of course it's equally important for you to integrate these moments to be able to perform examination on the welds or for example verify dimensions when manufacturing by machining.